Kirsty Walker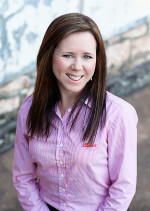 Senior Residential Property Manager
I gained employment as a trainee Property Manager with Elders Real Estate Palmerston 10 years ago and have never looked back. I started out in admin, assisting the Property Managers and studying at the same time. I feel that my background in customer service helped me to quickly form positive and professional relationships with Landlords, Tenants, colleagues and other industry professionals.

I completed my Certificate 3 as an Agents Representative within 8 months and soon after I began managing my own portfolio as a Property Manager.
Over the years I have won a number of awards including:
Elders Support Person of the Year 2008
Elders Arrears Management Award 2009
Elders Property Manager of the Year 2011
Elders Property Manager of the Year 2012
REINT Property Manager of the Year 2015
Elders Property Manager of the Year 2016
I was born in Darwin and grew up in Palmerston so am very passionate about our Palmerston Market.
After 10 years I still absolutely love my job and I could not imagine myself doing anything else. Every day is busy and there is always an opportunity to learn and grow as well as meet new people from all over Australia and the world.
This job requires the highest level of professionalism but also empathy, humility and patience.
08 8931 5000
08 8932 4722
0408475122